5. Knees and legs parts
Corner : It is the knees form opening apart. Stepping , the actor has to set apart the knees to be widen circle. While the actress has to step aside and evading the knees not to be in circle.
Touching feet : It is the one of the feet action laying down to the front. The body weight will be at the back foot. The end of nose foot will only be used for the front foot with the slightly touching the ground ( the nose foot is the part of the toes base.).
Pratao : ( to mark the time on the same place) It is the action continuing from the touching foot by lifting the foot nose up. Lay the ridge foot on the floor. Bend the knees down together with touching the nose foot on the floor and then lift it up.
Lifting foot : It is to lift the foot up to the front. Raise up the end of foot and let it be tight. Bend the ankle to the leg. The actor will open the knee to the side with the high in the standing knee level. The actress does not open the knee with the high lower than the standing knee.
Stepping :
Front step : It is to lay the sole down on the front floor by firstly laying down the heel. The actor will do a little oblique step to the side. Let the end of foot be oblique to the little toe. Open the knee to be in the proper corner. The actress lays her foot to the front without opening the knee. The end of foot is little oblique to the little toe.
Step side : It is to lay down the foot on the body side with the end of the foot being oblique more to the little toe. If you are the actress you have to evade the knee along with ramming foot. Lay foot at the back of the foot nose and then use the nose foot rams down on the floor and then raise up or lift it to the front.

Kradok Thao : ( Bending skew foot upward)
The foot tilting backward: Having rammed the foot and then kick the knee to the back as much as possible separating the knee from each other. Let the heel close to the buttocks as much as possible. Bend the foot end down. Bend the knee down from standing. The actor has to separate the knee too.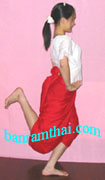 Skew tilting : It is like the tilting backward. But it inclines to the side way and there is no need to ram the foot. It is always done continuously from stepping aside or the tilting foot on the sitting post.