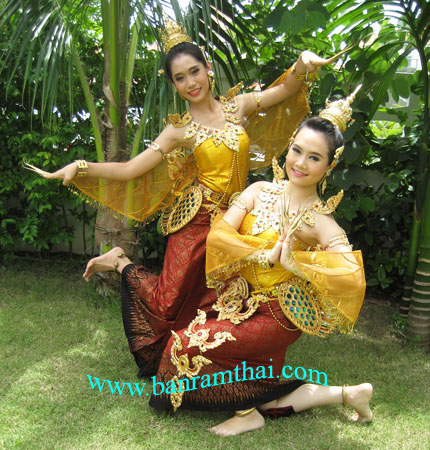 Meaning

Rabam (Dancing)
Rambam refers to set or group dancing. The dancers show the same dancing post together.
The graceful dancing show is all together joining in line. Showing performs with the song and without the song by using only the music.
Dancing can be divided into 2 types i.e. the standard dancing and the applied dancing.
Rabam matrathan (The standard Dancing)
It refers to the demonstration fixed by the teacher about the song, melody rhythm, cadence post and dressing including the fixed showing process being trained instructed with the long generation to be held as the standard dancing style. It is maintained as the master text which the cadence post is unchangeable by anyone such as Rabamdaowadung, Rabamkrissadaphinihan, Rabamtepbanterng, Rabamborancadee.
Rabam Prabprung (The applied dancing or the miscellaneous dancing)
It refers to the new invention showing as wishes, events, fashion and according to the song needed by the composer such as Rabamdokbua, Rabamchumnumphaothai, Rabamkai and Rabamma.
Ram
Ram refers to showing aiming at the graceful of dancing. It shows the dancer cadence post by using hands as the main performance. It can be the single dancing, the double dancing (two persons dancing) or the group dancing with the cadence, style and post of moving according to the song and music rhythm. Dancing is the important part in Thai Drama such as ChuiChaipraham, Ramouiporn, Ramwongmatrathan.
Fon (one kind of dancing)
Fon refers to the North and the Northeastern traditional dancing show by many actors all together with the slow dancing rhythm. Most of them are the art of the Northern people such as Fonlep, Fontian.
The essential of Fonramthai (thai dancing)
Fonramthai has an own characteristic and being thai in itself. It is the national art with no repetition or like the other nations. It is considered to be proudly national cultural wealth.
The characteristics of being thai are as the followings:


Showing the delicate and graceful dancing post and the emotion according to the real thai characteristic with widely meaning.


With music, it will create the happy emotion or it can dance with the song having only the rhythm or the song and action will be made along with those songs.


The song or the song text must be the composing. The verse will be the eight rhymes.


Thai drama dressing differs from the other nations by having an own style.